Pony Club Rosettes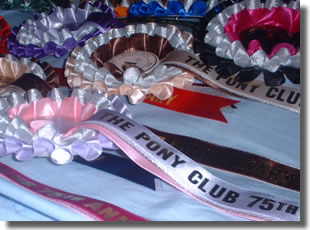 Everybody remembers winning their first rosette through the Pony Club. Whether it was for Jumping, Dressage or for being tidy at Camp: we all love a nice rosette. Even years later when you find the 50th (or your children the 75th!, or your Grandchildren the 100th!!!) Anniversary Rosette in an old box in the attic it will bring back all those memories.
We currently supply a number of Pony Club with their rosettes for a variety of shows, Tetrathlons, Showjumping, dressage, Camp and other Pony Club activities.
Should you be running a Pony Club and are looking for some rosettes then get a quote from us.